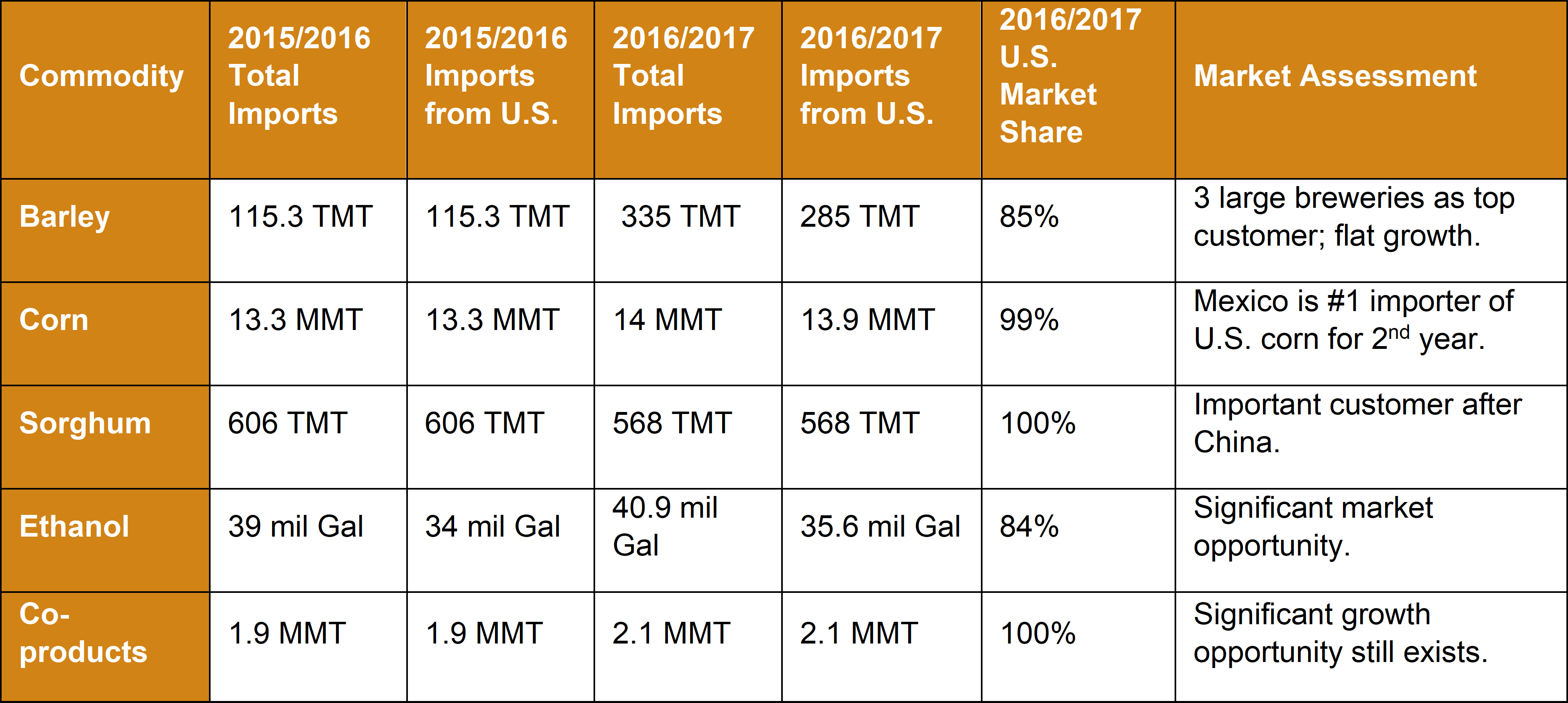 Supply/Demand Basics
#1 importer of U.S. corn (white and yellow 13.9 MMT).
#1 DDGS market with imports of 2.1 MMT.
#1 importer of U.S. barley and barley malt with imports of 285,000 MT.
#2 importer of U.S. sorghum, down slightly, 568,000 MT.
Feed industry growth is the main demand driver for grains and co-products.
Poultry, swine, dairy and beef continue to grow consistently.
Country Overview
Population / growth: 124 million / -1.3%
Urban % / growth: 5% / 1.6%
GDP / growth: $2.4 trillion / 2.3%
GDP per capita: $19,500
Mexico is a free market economy, with recent reforms made to allow non-governmental investment in petroleum, gas, electricity and basic infrastructure.
Mexico must continue to address income and distribution gaps and security issues.
Exchange rate to dollars and low oil prices complicate economic situation.
Trade and Market Share Issues
Total U.S. market share is 94%.
Mexico exported more than 1.4 MMT of white corn to Venezuela, Kenya, and South Africa.
Significant untapped potential for DDGS (ruminants sector).
The world's 4th largest compound feed industry running at 85 percent capacity and expanding at 2.5% annually.
Significant opportunity for ethanol exports if regulations can be put in place.
Policy Issues
Mexico is leading efforts at the COP-MOP (Cartagena Biosafety Protocol) concerning labeling language for GMO products and traceability documentation.
Mexico will address low-level presence (LLP) issue at global level.
Energy sector reform has opened opportunity for ethanol exports to Mexico.