U.S. Weather/Crop Progress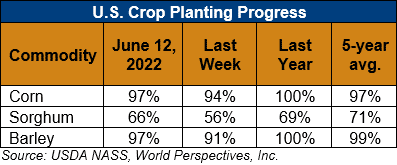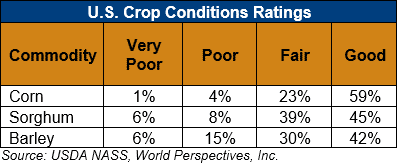 U.S. Drought Monitor Weather Forecast: A storm system with a trailing frontal boundary will exit the northeastern contiguous U.S. (CONUS) over the next 2 days (June 16-17), bringing below-normal temperatures and chances for precipitation to parts of the Great Lakes and Northeast. High pressure is forecast to build over the central CONUS and spread eastward through Tuesday, June 21. Maximum temperatures across parts of the north-central CONUS may reach 15°F to 20°F above-normal. The northwestern CONUS is expected to remain active, as another storm system is forecast to push onshore into the Pacific Northwest and into the Intermountain West during the weekend and leading up to the Tuesday cutoff. With it will come increased chances for precipitation in areas that experienced improvements in recent weeks. Below-normal temperatures are also forecast across much of the western third of the CONUS, in the wake of this passing system.
The Climate Prediction Center's 6-10 day outlook (valid June 21-25, 2022) favors above-normal temperatures and near to below-normal precipitation across the eastern CONUS. Below-normal temperatures and below-normal precipitation are favored across the Pacific Northwest and northern Great Basin, in the wake of a passing storm system near the start of the 6-10 day period. However, there is a weak tilt in the odds toward above-normal precipitation in northern Washington. A surge of moisture is expected to bring increased chances of precipitation to the Four Corners region, signaling a potential early start to the Southwest Monsoon season, with probabilities of above-normal precipitation extending northeastward into portions of the Central and Northern Plains. Near to below-normal precipitation and above-normal temperatures are favored over much of California.
Follow this link to view current U.S. and international weather patterns and future outlook: Weather and Crop Bulletin.