Chicago Board of Trade Market News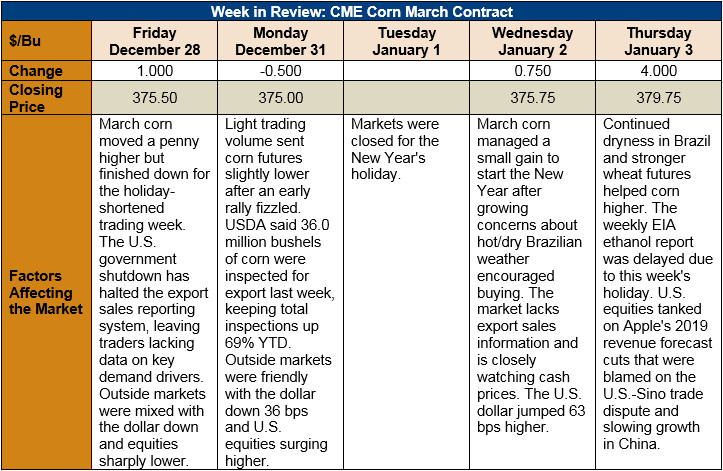 Outlook: March corn futures are 4.25 cents (1.1 percent) higher this week even as the partial U.S. government shutdown is leaving the market without key fundamental information. Thursday's buying in the wheat market, particularly KC wheat futures, helped the corn market higher. Globally, increasing hot/dry weather in Brazil is causing some production concerns for that country's crop, which remains at least mildly supportive for U.S. prices.
The ongoing U.S. government shutdown has suspended some of the key reports used by traders to assess market conditions and demand prospects, including the Export Sales reporting system. The shutdown has stopped both the daily export sales reports and the weekly, comprehensive report.
Fortunately, the USDA AMS' weekly Export Inspections report is still being published. This week's report featured 913,000 MT of corn inspections, which were down 8 percent from the prior week (thanks to the Christmas holiday) but sufficient to keep YTD inspections up 69 percent. The report also showed 27,000 MT of sorghum inspections, which were down from the prior week. The U.S. dollar index has slowly worked its way lower in recent weeks, which is leading to traders' expectations that U.S. exports could pick up early in the New Year.
Much of the trade is now watching cash market prices to indicate the presence/strength of demand. Better weather across the Midwest this week is improving prospects for grain movement/farmer selling and is consequently keeping basis steady. Broadly speaking, cash prices are steady this week but have firmed significantly this fall/winter and are up 8 percent from this time in 2018. The March/May corn futures spread has tightened in recent weeks and currently stands at 60 percent of full carry. Thus, the spread market is signaling some bullishness for corn.
Before Thursday's trading activity, March corn futures were trending sideways/slightly higher while bumping up against key resistance near $3.78-3.80. With solid wheat market buying today, corn traded through $3.78, which brought additional buying to the market at the close. The market closed above recent resistance and just shy of the 10-day moving average. With the market having moved through this key resistance range, additional follow-through buying is likely. However, $3.88 stands as another strong resistance point. Trading volumes have decreased steadily since late November which suggest the markets ability to rally beyond this point may be limited.
With the CFTC's weekly Commitment of Traders report shuttered with the partial government shutdown, there is no "official" way to measure funds' or commercial traders' positions. However, industry data suggests funds hold a neutral or slightly long corn position in sympathy with the corn market's seasonal tendency to grind higher early in the year.