Chicago Board of Trade Market News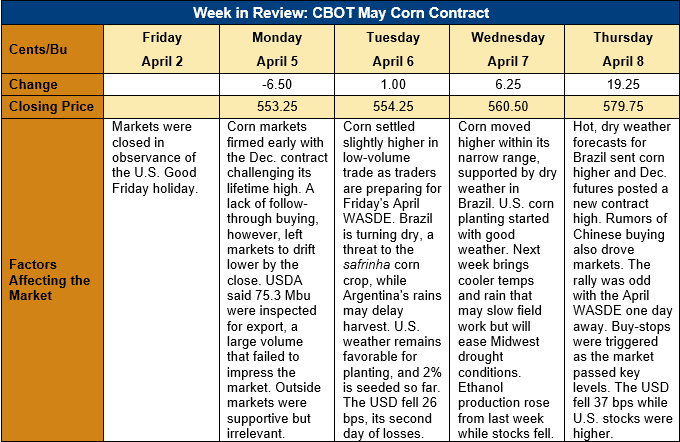 Outlook: May corn futures are 20 cents (3.6 percent) higher after the market rallied 19 ¼ cents (3.4 percent) on Thursday, 8 April. Dry, warm weather forecasts for Brazil are causing concerns for the safrinha corn crop, which prompted the futures market to abandon the tight, sideways range it traded earlier in the week. The rally was notable as it came the day before the USDA's April WASDE, and markets typically do not make major moves immediately before USDA reports.
Dow Jones' survey of analysts shows most expecting USDA to lower U.S. and world 2020/21 corn ending stocks in the April WASDE. On average, analysts expect USDA will forecast 35.028 MMT (1.379 billion bushels) of U.S. 2020/21 ending socks, which would be an 8 percent reduction from the agency's March WASDE. World 2020/21 corn ending stocks are thought to be 284.4 MMT, down 1 percent from USDA's March forecast.
The trade will be closely watching USDA's forecast of the Brazilian corn crops. The worsening weather conditions and forecasts for Brazil have created a wide range of pre-report estimates for the country's corn production. On average, analysts expect USDA to publish Brazilian 2020/21 corn production of 108 MMT, down from 109 MMT in the agency's March report. Estimates range, however, from 105.1 to 110 MMT.
Pre-report estimates for Argentina's corn crop are narrower, thanks to improved conditions for the country's corn crop in its final stages of development. Analysts expect 46.7 MMT of Argentine corn production for the 2020/21 year, down slightly from USDA's March estimate of 47.5 MMT. Pre-report estimates range from 45 to 47.5 MMT.
The weekly Export Sales report saw international buyers book 0.757 MMT of net export sales, down 5 percent from the prior week. Exports totaled 2.053 MMT, up 4 percent from the prior week. YTD exports total 35.971 MT (up 84 percent) while YTD bookings (exports plus unshipped sales) total 66.483 MMT (up 97 percent). Exporters sold 200 MT of barley and shipped 500 MT, bringing YTD bookings to 29,000 MT. Sorghum exports totaled 165,700 MT last week, putting YTD exports at 3.99 MMT (up 180 percent) and YTD bookings at 6.387 MMT (up 110 percent).
U.S. cash prices are steady/higher this week with basis remaining firm at five-year highs for early April. Across the U.S., basis averaged -9K (9 cents under May futures), up from -64K this time last year. FOB Gulf corn offers are 3 percent higher this week at $259.34/MT for May shipment.
After posting a bearish key reversal last Thursday, May corn futures saw little follow-through selling and posted a bullish outside day on 8 April. Trading volume was heavy heading into the USDA report, which is a bullish anomaly. December corn futures posted a new contract high at $494 ¾, with resistance increasing as the market approaches the $5.00 mark. Neither the May, July, nor December contracts are overbought from a technical standpoint, meaning upside potential is still ample. The technicals are certainly bullish heading into the April WASDE, but history suggests technicals mean little following a fundamental report's release.