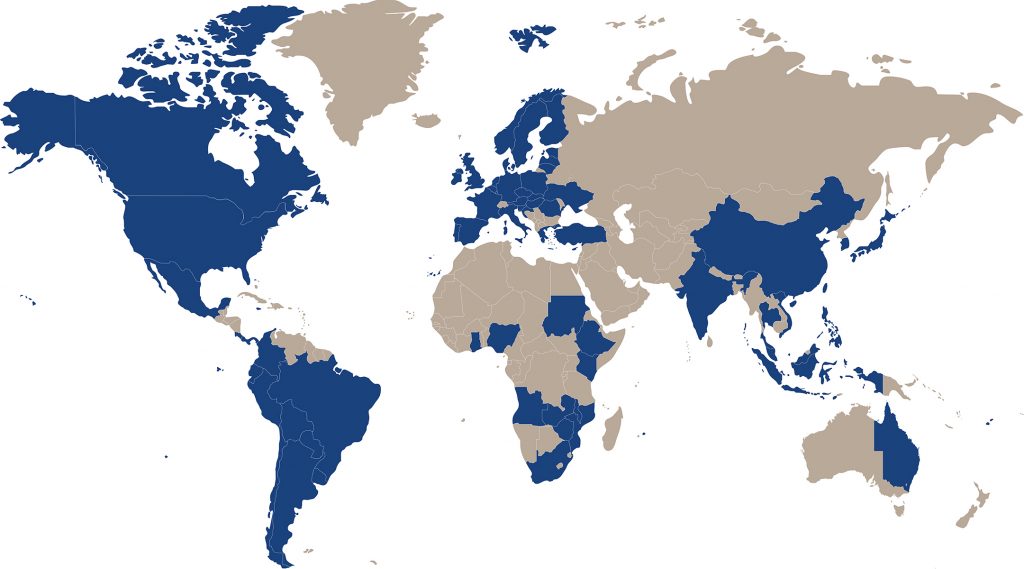 Eleven markets have announced significantly expanded or completely new national ethanol policies in the last year – a momentous shift toward global ethanol adoption as the renewable fuel continues to be recognized for environmental, human health and economic benefits.
Discussing these benefits and the critical role that policy development plays in ethanol adoption are critical pieces of the global market development efforts being undertaken by the U.S. Grains Council (USGC) and U.S. ethanol industry partners, including corn state organizations, Growth Energy and the Renewable Fuels Association.
"For good reason, more countries continue to recognize the demonstrated environmental, human health and economic benefits of increased ethanol usage," said Mike Dwyer, USGC chief economist and lead of the Council's global ethanol efforts. "These expanded policies create incredible opportunities for trade to capture new demand for ethanol throughout the world as these policies are implemented."
Brazil, the top destination for U.S. ethanol exports in the 2016/2017 and 2017/2018 marketing years, is finalizing its new biofuels policy – RenovaBio – which will go into effect in 2019. The Brazilian market will nearly double in size under this carbon-scoring based policy, generating approximately five billion gallons of new ethanol demand if fully implemented.
Beyond Brazil's immense growth, Canada currently ranks as the second largest export market for U.S. ethanol. The Canadian government is developing a national Clean Fuel Standard (CFS) with individual provinces already declaring interest in moving to E10 to achieve carbon intensity reductions. The new CFS will further utilize ethanol's carbon intensity reductions. The policy is set to take effect in 2021, but multiple provinces across Canada have already started the transition to E10, including Ontario, which will do so in 2019.
Across the Pacific, China is expected to rank as the fourth largest market for U.S. ethanol at the end of the current marketing year, despite new tariffs that have sharply limited ethanol imports. China is the second largest gasoline market in the world and growing, and the country's decision to adopt E10 nationwide has the potential to generate nearly three billion gallons of new demand for ethanol globally.
Other Asian markets that have introduced new or updated ethanol policies in the last year include:
The Philippines, which continues to be a consistent buyer of U.S. ethanol with imports of more than 63 million gallons (equivalent to 567,000 bushels of corn) thus far in the 2017/2018 marketing year. The country – with its current E10 mandate – is reviewing policy steps to expand the mandate to E20 by 2020.
Japan, which will now allow U.S. ethanol to be used as a feedstock for ethyl tert-butyl ether (ETBE), a component of gasoline used in that country as an oxygenate.
Vietnam, which initiated E5 use in January 2018 with plans to expand to E10 by 2020.
India, which recently updated its national biofuels policy to include domestic spent grain and sugarcane juice as feedstocks. While the new policy recognizes the additional feedstock sources to meet the country's E20 goal by 2030, it still does not allow ethanol imports for fuel use – a critical component of every successful ethanol policy.
Other markets continue to announce new policies that will create additional demand for ethanol as they move from legislative development to implementation. The European Union, which had previously indicated a phase-out of crop-based biofuels, recently re-committed to a 7 percent cap under by the new Renewable Energy Directive II (RED II) through 2030. As a result, individual countries within the bloc, including Ireland, are seeking to move to E10.
In 2017, Mexico expanded the ethanol blending allowance from E5.8 to E10, providing a crucial step for long-term policy and market development. While this policy does not include the three largest cities in Mexico – Mexico City, Guadalajara, and Monterrey – potential market demand still represents nearly 720 million gallons for ethanol.
And, Bolivia announced intentions to move to E25 by 2025 to reduce the cost of fuel subsidies provided by the government and to support agricultural producers – a direct follow-up to the U.S. industry-organized Ethanol Summit of the Americas held in October 2017. The Summit demonstrated the important nexus of collaboration, policy development and trade for expanding or implementing ethanol policies.
"More than 60 countries already have biofuels policies in place, signaling a clear prioritization by these governments to clean up their air, reduce their carbon footprint and offer economic advantages," Dwyer said. "Global ethanol trade will have expanded opportunities, thanks to these policy advancements, as even more countries turn to ethanol as an affordable and sustainable oxygenate for their fuel supply."
Learn more about the Council's work to promote increased ethanol usage worldwide here.
About the U.S. Grains Council
The U.S. Grains Council develops export markets for U.S. barley, corn, sorghum and related products including distiller's dried grains with solubles (DDGS) and ethanol. With full-time presence in 13 key markets and representatives in an additional 15 locations, the Council operates programs in more than 50 countries and the European Union. The Council believes exports are vital to global economic development and to U.S. agriculture's profitability. Detailed information about the Council and its programs is online at www.grains.org.