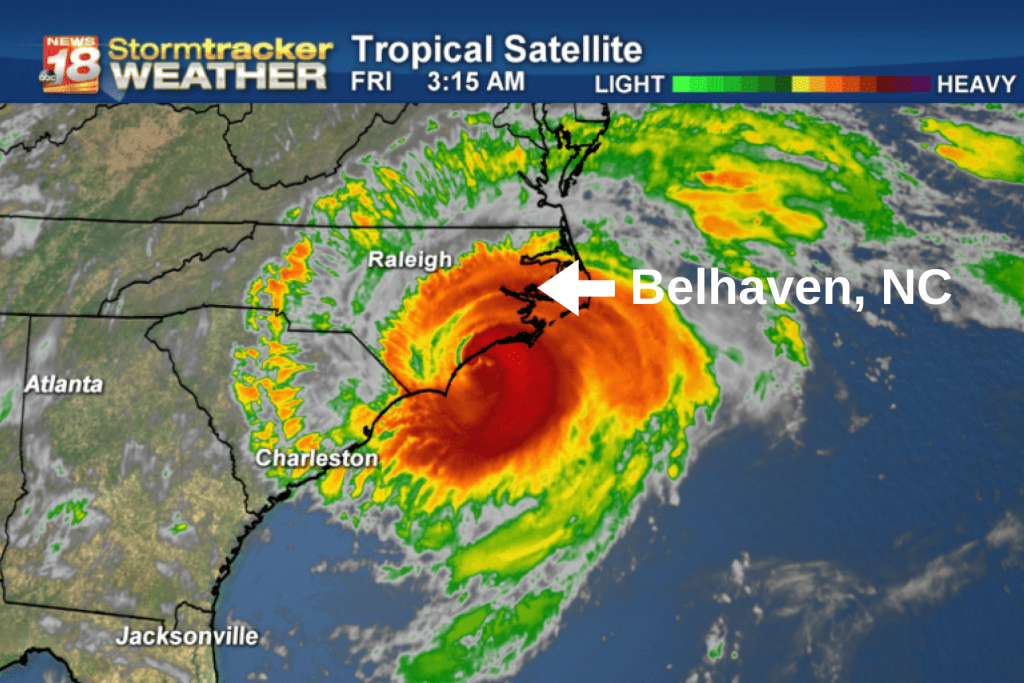 Corn harvest was more than a race to the finish for U.S. Grains Council (USGC) Vice Chairman Darren Armstrong as Hurricane Florence bore down on the coast of North Carolina. Years of preparation and knowing when to cut losses and head for home is all part of life for Armstrong, who took time from storm recovery to share his corn harvest story.
Located in Belhaven, North Carolina, just off the Pamlico Sound of the Atlantic Ocean, Armstrong has lived through a dozen or so such weather events – Matthew, Irene, Floyd – relying on the National Hurricane Center's storm predictions of the severity of each storm season as corn harvest approaches. Hurricane Florence was no exception.
"Back in August, before the storm even formed, you have in the back of your head – what will happen if we have a storm?" Armstrong said. "You know there is going to be one in the ocean, but you just don't know where it is going to go. You don't really worry about it, but it's part of the plan as you go into harvest."
Before The Storm Forms
Preparing for hurricanes – and the accompanying storm surge in coastal North Carolina – takes place years before any one storm. Farmers and other rural residents elevate their houses, place more grain bin storage on higher ground, install generators and know what areas are likely to flood and be impassable.
Armstrong's farming operation is fairly well-equipped to weather storms and the resulting floods. His father lives where the main farm shop and grain bins are located. At roughly 20 feet above sea level, this base of operations has never flooded into the buildings. His own house – 10 miles away – is at a lower elevation, only five feet above sea level with the ground floor another five feet higher – so the predictions of a storm surge between six and 10 feet with Hurricane Florence cut a little close.
Between the two locations, a highway follows the river, meaning all the tributaries, swamps and low places flood easily – preventing travel from one to the other immediately after a storm passes. To stay in touch, Armstrong and his father use private radios that operate better than spotty rural cell phone service or landlines that could be washed away.
"Cell phones are not really dependable when the weather is good here, so you cannot rely on them," he said.
Both of his brothers live within a mile of Armstrong's house – one elevated sufficiently for most storms and one that lives on the intercoastal waterway. Ten minutes further down the road, Armstrong's in-laws also live at low elevation – just three feet above sea level. Armstrong also farms this ground and has built up a massive dirt hill where equipment can be parked during a storm. This was the first year his aging in-laws left their home for higher ground.
"The house is built up, so water comes within an inch of going into their house, but they have been extremely fortunate," Armstrong said. "We also have some farm shops and grain bins where they live – and all of that gets flooded when you get a hurricane like this one."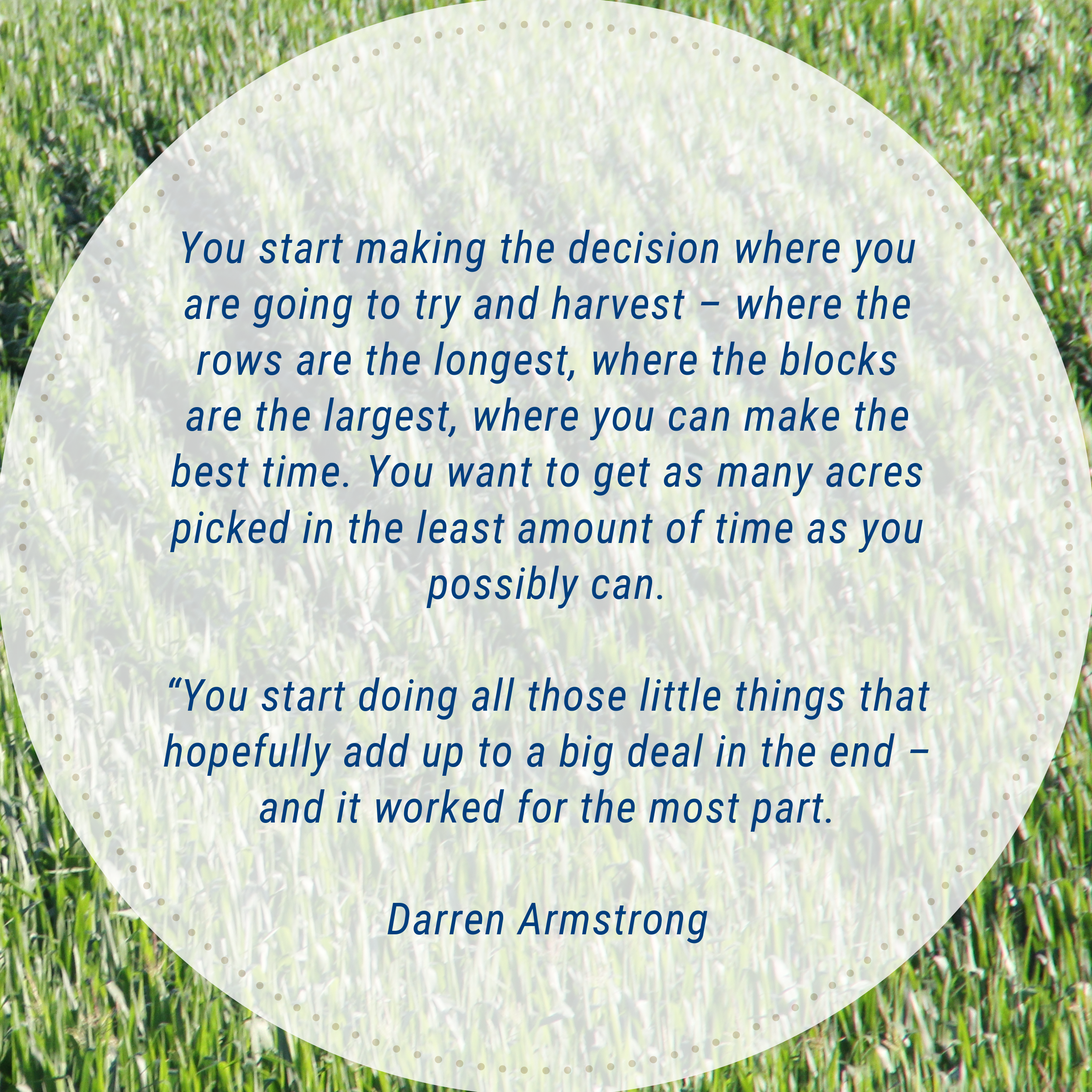 Picking Corn While Racing A Hurricane
Armstrong started corn harvest around Aug. 18, a week to 10 days behind his normal window due to a wet spring that delayed planting of about 4,500 acres total. That time lag could have made a world of difference as Hurricane Florence approached, but Armstrong said that was just not in the cards.
"When you are planting in April, a hurricane is not really something that is on your radar at the time – you are trying to deal with what is front of you," Armstrong said. "But it's all tied in and affects not only your growing season, but also your harvest date."
As Hurricane Florence formed off the coast of Africa in September, Armstrong kept track of it but did not think this storm was the one to worry about. However, as Florence reached Bermuda and did not make the hook north, he put his planning into action by adjusting work schedules and moving last year's corn out of grain bins to make way for this year's crop.
"We lengthened our hours; we hired more trucks; we kept doing those things each day as the storm got closer and was not turning," Armstrong said. "As the hurricane got closer, the models started agreeing where it was going to go and it looked worse and worse.
"You start making the decision where you are going to try and harvest – where the rows are the longest, where the blocks are the largest, where you can make the best time. You want to get as many acres picked in the least amount of time as you possibly can.
"You start doing all those little things that hopefully add up to a big deal in the end – and it worked for the most part."
As Armstrong rushed to pick his corn, the weather cooperated and his harvest equipment had minimal breakdowns, allowing the crew to continue corn harvest without major delays.
On Sunday, Sept. 9, Armstrong and his harvest crew moved to the second-to-last block of corn to harvest – 1,500 acres. By Thursday, Sept. 13, the crew had finished picking that corn right after lunch and started to move machinery home as light rain started. That left one block of 650 acres standing as Armstrong, his family and his farm help scattered to prepare their own homes for the storm.
"It was starting to mist a little bit, and you could feel the combine rocking with the wind blowing and see the corn falling down in front of you, but we were able to go right up until the last minute," Armstrong said. "At some point you have to say, 'That's it, I've done the best that I can do,' and let the pieces fall where they may. Go home and make sure everyone is safe and you deal with it after the storm."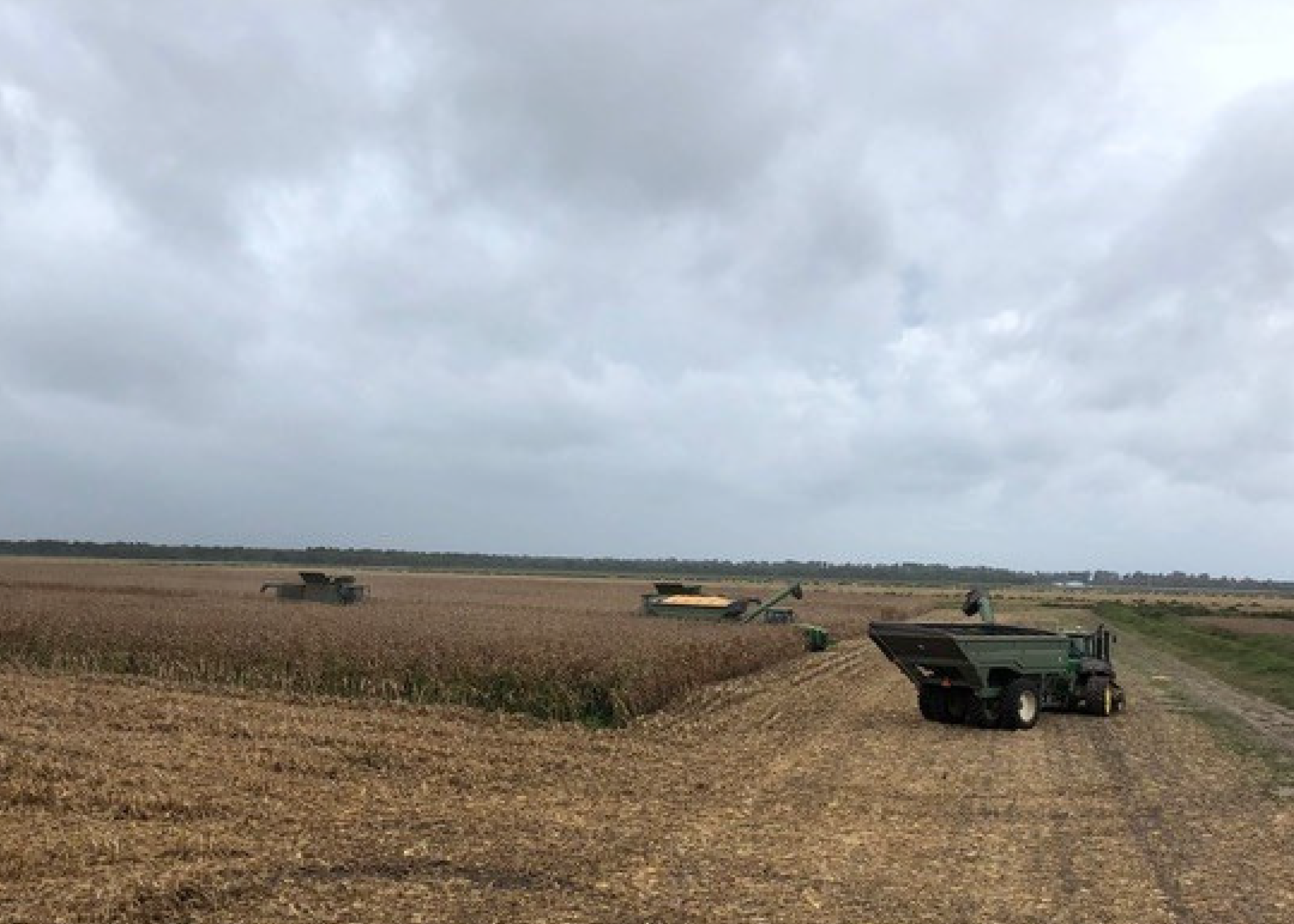 Armstrong made it back home, moved harvest machinery inside and worked outside with his wife Dawn and three sons – ages 9, 13 and 14 – to secure lawn mowers and other personal items out in the yard.
"Your personal items all have to be moved to higher ground too," Armstrong said. "So you are doing that as the rain is blowing sideways. It is almost like a steady motion, you are just going continuously."
Then it was finally time to retreat inside and collapse with exhaustion from weeks of effort, a little at peace knowing he had done everything possible to prepare.
"At night when the storm hit, I was so tired, I slept through most of it," Armstrong said.
The eye of Hurricane Florence made landfall early in the morning on Friday, Sept. 14 near Wilmington, North Carolina – roughly 125 miles south of Armstrong's home in Belhaven, North Carolina. Armstrong and his family – on the outside edge of the storm – watched as the eye came almost to a halt.
"At this point, it was moving excruciatingly slow and it seemed like it lasted forever, only moving two to three miles per hour, whereas other storms would move 10 miles per hour," Armstrong said. "While other storms would come through and move on at a fairly fast pace, this one stalled out and tracked south."
As the hurricane lingered, Armstrong and his family watched the water rise as they played games or with toys, just like on a rainy day when there is nothing else to do.
"We always elect to stay home because there is just so much to look after, but you do second guess yourself after the storm comes in," Armstrong said. "Sitting there, watching the water come up gives you an empty feeling in your stomach."
Finally, the weather broke and his family ventured outside to float boats in the floodwaters and determine when it would be safe to travel out to check on family and farm. In the end, Armstrong's operation missed the highest winds and rainfall amounts, but still received a 6.7 foot storm surge, turning his house into an island, flooding fields and preventing the family from really leaving until the following Monday, three days after the hurricane moved ashore.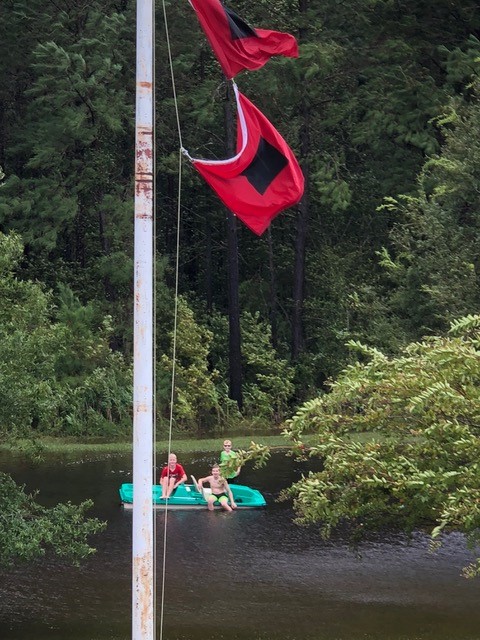 The storm surge during a hurricane is the most destructive part of the storm, according to Armstrong, washing out highways, pushing over mailboxes and one time even flooding an older cemetery and leaving caskets laying on the highway. Even more than the force of the water, the local rivers double or triple in width – all of which cannot drain until the winds switch direction.
"Everyone can appreciate rain and wind and what that does – everyone has been in bad thunderstorms – but storm surge is unpredictable and the scariest part of the storm," Armstrong said. "You don't know how bad it is going to be, and when you see the power of what it can do, it is a humbling experience."
Even worse, Hurricane Florence did not behave like a typical storm as it moved inland. Hurricanes move in a counter-clockwise direction, making the top right quadrant the strongest part of the storm. On the other side of the storm, the wind moves in the opposite direction, so while one part of the storm is pushing water in, the other part is pulling water out. This means storm surge in his area typically only lasts for a 24-hour period as the hurricane moves inland from south of Armstrong then tracking north.
Hurricane Florence did not follow this pattern. The storm moved slower than normal and tracked further south, rather than turning north. As a result, those pulling winds never reached Armstrong's area to pull the storm surge out.
"You can't do anything until the storm surge is out. You just sit around and wait until the storm surge moves out and then you can start working again," Armstrong said. "There are places now where the water is still high because we've never gotten the wind to push it back out."
Dealing With What Florence Left Behind
Armstrong said his family was lucky because their homes were not flooded by the storm, which would have been much more difficult to handle than flooded fields and farm buildings.
"Losing a crop in the field is bad enough, but there is nothing that survives water in your house – family pictures, mold appears six months later," he said. "You do not just go in and clean, you tear out walls. That is a stress that could really weigh on the strongest of people."
As other farmers with flooded grain bins are moving corn further inland where elevators that are still operational can receive it, Armstrong continues to clean out outbuildings and assess damage in his fields as the waters slowly recede. His next step will be a field-by-field inspection, wading among remaining floodwaters, to remove obstacles that could cause even more damage to crops and equipment.
"Everything that was in people's yards floated out and is now in the fields – old tires, boards, plywood, little boats, tree limbs," Armstrong said. "If you are going to pick corn, you have to go out and start picking up that stuff. You just get a crew and start guiding that stuff to the road – and that process will continue until winter."
Armstrong's last remaining corn patch is likely ruined, but is waiting for crop insurance to make that final decision as agents and adjusters from all over the country flock to North Carolina to help speed the process. He had already spent three to four hours with his own agent going over paperwork, double checking all is in order.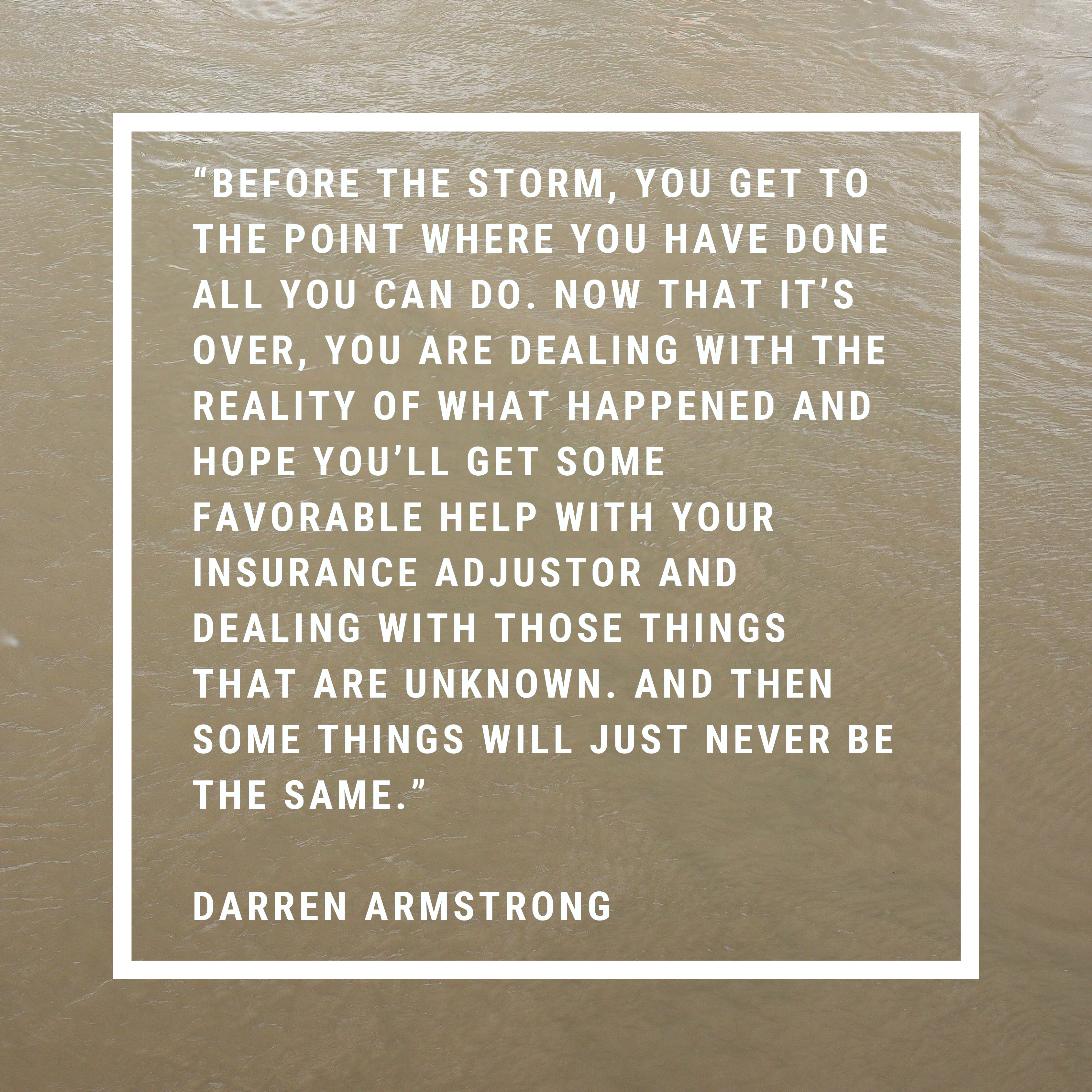 His soybeans should also be ready to harvest in the next three weeks or so – soybeans are harvested after corn in his part of North Carolina – so Armstrong is waiting to see the condition of those fields as the water recedes. Still, he knows there will be items that were missed in field clean-up and roads washed out that will further slow the harvest process.
And, in the back of his mind, Armstrong knows hurricane season does not end until November, so another storm could hit during soybean harvest.
"All of that is pretty stressful, but that's the stage we are at," Armstrong said. "It seems like the clean-up never ends. You will find stuff a year from now that you didn't realize had water in it or something you don't use often that floated off and you don't know it until someone finds it in the woods."
For example, Armstrong said a tenant on one piece of land called to say a string of extra tires for his equipment had floated past the house, but he doesn't know where they ended up.
"They are out there somewhere and you may or may not find them," Armstrong said. "You really don't have those on insurance, and three or four things like that are several thousand dollars lost that you're not going to get back because it's not covered.
"Before the storm, you get to the point where you have done all you can do. Now that it's over, you are dealing with the reality of what happened and hope you'll get some favorable help with your insurance adjustor and dealing with those things that are unknown. And then some things will just never be the same."
A longer-term concern is the salt water deposited by the storm that affects the current crop and alters soil pH, leading to years of countermeasures to rebalance if that's even possible. In November, Armstrong and his neighbors will start checking soil levels to see whether or not those flooded fields will still be able to grow a crop.
"The storm was bad, and it hurt, but I'm just as concerned with next year's crop," Armstrong said. "A storm forever changes the landscape of your community with any kind of floodwater anytime it floods.
"You can clean up, but it will never be the same."
Shared Experiences Build Strong Farm Communities
Despite the difficult storm recovery, Armstrong remains appreciative of the support he and his community have received and committed to the future of his farming operation.
"When you are farming, you know you are going to do the best you can and some bad things are going to happen that are out of your control," Armstrong said. "The work we do every year trying to get corn out ahead and knowing the storm surge effects – it's a way of life and you just go with it.
"Everyone has their challenges, and this is just one of ours."
Armstrong said he was encouraged by the notes from people around the country he has met through the Council – sharing their own experiences with storm recoveries of all types and making him feel like he and his crew are not alone.
"I want people to know that anything you do is a tremendous help – people pulling together and helping each other get through some bad times," Armstrong said. "Our house is dry and our family is safe, which is what is most important. There are many families in eastern North Carolina that cannot say that.
"Having a USGC family that cares so much about each other is a ray of sunshine in any storm and I am very thankful."
About the U.S. Grains Council
The U.S. Grains Council develops export markets for U.S. barley, corn, sorghum and related products including distiller's dried grains with solubles (DDGS) and ethanol. With full-time presence in 13 key markets and representatives in an additional 15 locations, the Council operates programs in more than 50 countries and the European Union. The Council believes exports are vital to global economic development and to U.S. agriculture's profitability. Detailed information about the Council and its programs is online at www.grains.org.