1. Ethanol, Fuels and Co-Product Pricing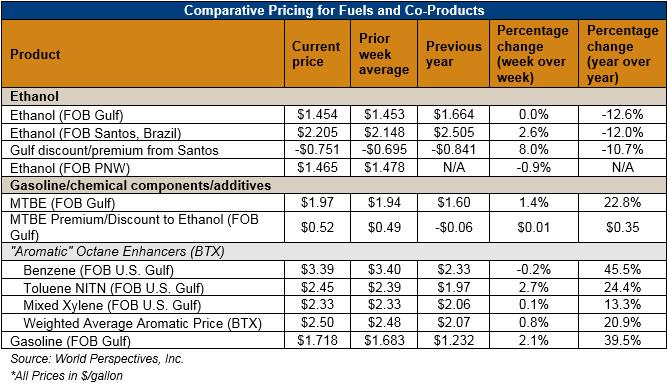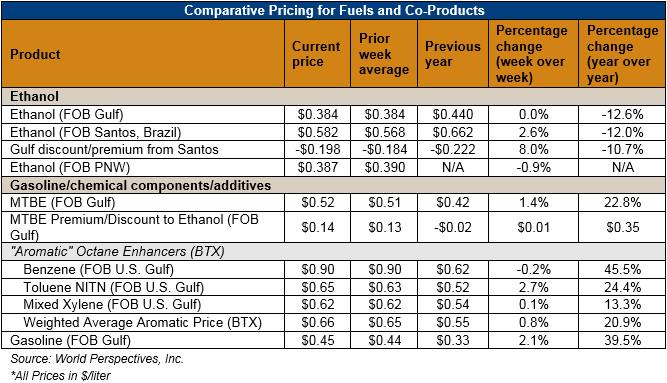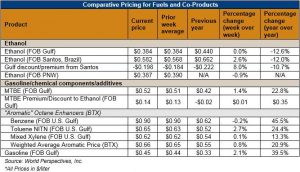 Market Outlook: U.S. ethanol prices are mixed this week, having found some strength after prices declined during last week's U.S. holiday-shortened trading. Nearby CBOT ethanol futures are down 0.85 cents/liter (3.2 cents/gallon) this week while Midwest rack prices are steady at 40.52 cents/liter (153.38 cents/gallon). Ethanol futures have been under pressure from lower corn prices, a higher U.S. dollar, and weaker petroleum prices. Physical Midwest ethanol prices are finding some support in early-week cash buying.
FOB Houston ethanol prices are steady this week, with Brazilian ethanol and U.S. Gulf gasoline prices providing support. FOB Houston ethanol was last quoted at 38.433 cents/liter (145.48 cents/gallon), unchanged from last week. FOB Santos, Brazil ethanol prices rose 2.2 percent this week to 57.99 cents/liter (219.52 cents/gallon). Hydrous ethanol sales were strong during the first half of November, buoying export prices.
Hydrous ethanol loses competitiveness (due to its lower fuel efficiency) with gasoline when its price exceeds 70 percent of gasoline prices. The ratio of hydrous ethanol to gasoline fell in three of the four reported sectors of Brazil (South Brazil, the Center West, and the North) this week but gained slightly (0.5 percent) in the South East. Hydrous ethanol is now competitive or at break-even prices with gasoline in all areas except the North East. Hydrous ethanol has been valued at 80 percent or greater of gasoline prices since February 2016. The ratio has been falling steadily since July 2017, however, a dynamic which could increase hydrous ethanol sales in the region going forward.
Due to Brazil's rising prices, the FOB Santos-FOB Houston spread widened 6.5 percent (1.19 cents/liter or 4.5 cents/gallon) this week to its last quote of -19.558 cents/liter (74.03 cents/gallon). The spread is now at a new six-month low and nearly three-times as large – favoring U.S.-origin ethanol – as its five-year average.
MTBE prices rebounded this week after three weeks of lower prices. MTBE FOB U.S. Gulf prices rose 0.8 cents/liter (3.02 cents/gallon) this week to 52.11 cents/liter (197.25 cents/gallon). FOB Houston MTBE is priced 13.67 cents/liter (51.77 cents/gallon) above FOB Houston ethanol.
BTX component prices are mostly higher this week with Benzene prices rising 2 percent week-over-week on strong demand for prompt shipments. Toluene rose 3.6 percent while Xylene prices increased 1.4 percent. The weighted average aromatic price is currently estimated at 66.86 cents/liter ($2.53/gallon), up 2.2 percent from last week. The weighted average BTX price is 28.4 cents/liter (1.07 cents/gallon) higher than FOB Houston ethanol prices.
Gasoline futures and cash prices currently reflect different dynamics. RBOB futures are lower (down 0.6 percent this week) as the crude oil selloff pressures the market. Conversely, the Keystone shutdown temporarily tightened physical supplies which is boosting FOB Houston RBOB and CBOB prices. So far this week, 83.7 octane RBOB FOB Houston pipeline prices are up 1.4 percent to 45.66 cents/liter (172.86 cents/gallon) and 87 octane CBOB FOB Houston prices rose 1.4 percent to 46.08 cents/liter (174.43 cents/gallon).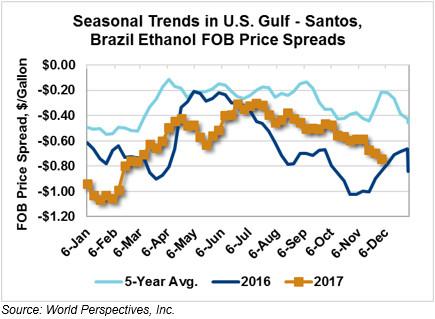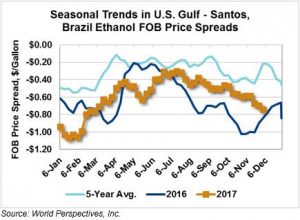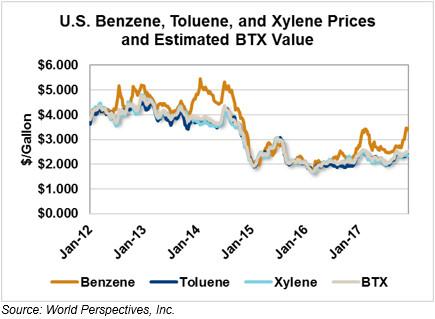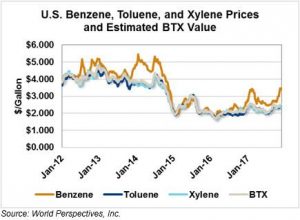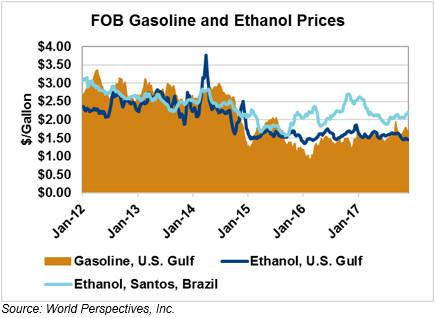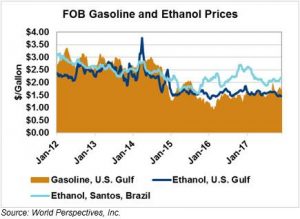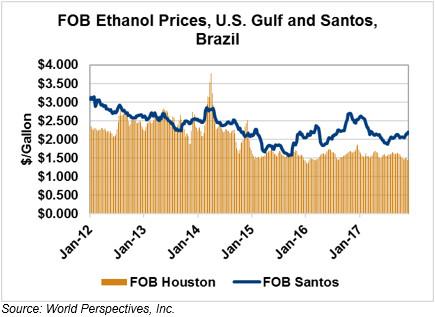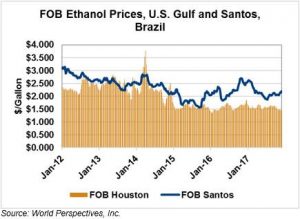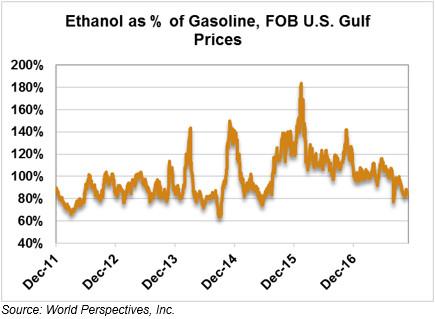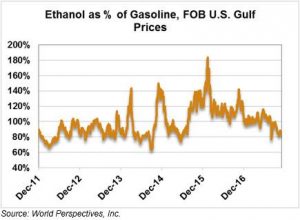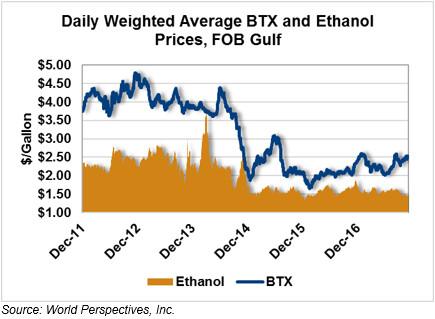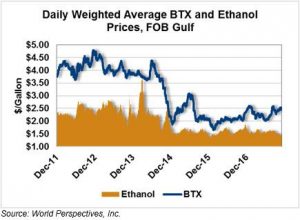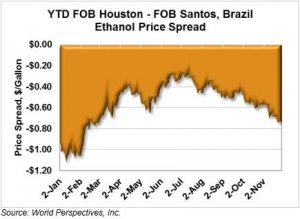 Price Database: If you are interested in historical price data, please click here.