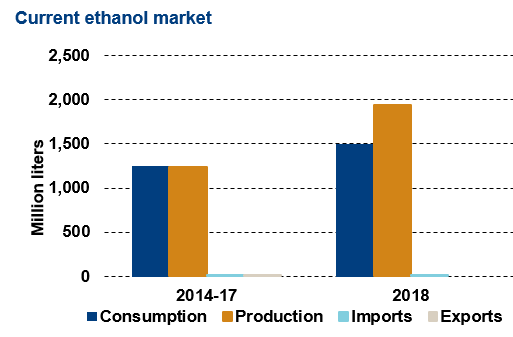 Ethanol Market Overview
Thailand has been very successful to date in stimulating demand for fuel ethanol. This has resulted in consumption of almost 1.5 billion liters in 2018, equal to a blend of 13.8% in gasoline. The government has promoted ethanol through the use of generous subsidies and increased availability of higher blends (E10, E20 and E85) at petrol stations.
Policy dictates that all consumption must be met with local production and imports of fuel ethanol are not permitted. Thailand's domestic ethanol industry has expanded dramatically on the back of the fuel ethanol program. There are now 21 plants with a capacity of 1.5 billion liters using molasses and cassava. Two new plants opened in 2017 raised capacity further to 1.8 billion liters.
Key Facts
Mandate:
2018  Only high level blends (E10, E15, E85) available
Consumption:
2018  1.5 billion liters
Capacity:  1.8 billion liters
Ethanol plants:  21 (main feedstocks: molasses   & cassava)
Gasoline consumption forecast:
2022  10.7 billion liters
Policy
The 10-year Alternative Energy Development Plan (AEDP) was revised in 2015 setting out plans to increase ethanol and biodiesel consumption to 2036. The target for ethanol is 4.1 billion liters by 2036 and all biofuels used in the country should be produced domestically. However, the government is considering reducing the targets for ethanol and biodiesel to 2.6 billion liters each, due to lower crude oil prices and limited feedstocks.
Ethanol consumption is promoted through the use of incentives provided by the State Oil Fund, making gasohol 20 to 40% cheaper than regular gasoline. The price subsidy rises with the ethanol blend, making higher blends cheaper at the pump. In addition, the government increased the marketing subsidies to gasoline stations to 5 baht/litre ($0.14/litre) to persuade them to increase sales of E85. The government also offers a 3% reduction in excise tax for the production of flex fuel cars which use E85. These subsidies do not have an official end date but as the proportion of gasoline falls and ethanol rises, the burden on the government will increase, as tax revenues fall while increasing subsidies are needed.
The fuel ethanol market received a huge boost when unleaded gasoline 91 (the main market for gasoline) was replaced in January 2013 with gasohol (E-10) 91. The impact of this was to increase monthly ethanol sales from around 60 million liters to around 80 million liters. The government announced plans in early 2016 to further boost ethanol demand by phasing out gasohol 91 and 95 (E10) by 2018 and 2027, respectively leaving only higher blends (E20 and E85) of ethanol available. The phase-out of 91 E10 in 2018 is now expected to be delayed.
Thailand has ratified the 2015 Paris Agreement on Climate Change and pledges to reduce its GHG emissions by 20% from the business-as-usual level by 2030. A further reduction of 25% may be achieved if support on technology development and transfer, financial resources and capacity building is provided from other countries.
Trade
According to the Thai Department of Customs, fuel ethanol is a controlled import/export product.
Traders must apply for import/export permits, which are considered by the Ministry of Energy (MOE). To date, the MOE has never approved any imports of fuel ethanol into Thailand. Ethanol producers normally only export ethanol for industrial uses. A lack of storage facilities is a long-term constraint to the export of fuel ethanol.
Non-fuel industrial ethanol imports increased to 15 million liters in 2018 and are primarily for use in the pharmaceutical and cosmetic industries. The Thai government imposes a 2.5 baht/liter duty on ethanol imports (28 U.S. cents/gallon, based on 33.1 baht/USD, as of September 14, 2017).
Challenges
There is concern over the sustainability of the government's current use of subsidies. With oil prices still low, ethanol is more expensive than gasoline and thus ethanol receives a net contribution from the Oil Fund.
The country will need to use new feedstocks if it is to continue growing its industry. Supplies of molasses have been used up so future growth will depend on cassava. This will come at the expense of cassava exports, potentially raising cassava prices.
Market Outlook
The government is likely to continue to promote the use of ethanol  through price incentives into 2018.
The government is expected to lower the ethanol consumption target under the 2015 AEDP to 2.6 billion liters in 2036, against the original target of 4.1 billion liters.
Thailand is unlikely to require large scale imports of fuel ethanol. If demand cannot be met with local production then the government is likely to implement measures that reduce consumption.