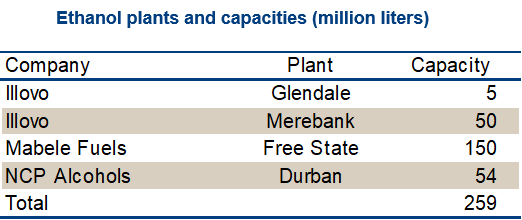 Ethanol Market Overview & Outlook
South Africa has discussed a mandate to blend 2% ethanol in gasoline since 2007. The lack of mandate fulfilment is due to a failure to agree on a pricing strategy amongst stakeholders. Many biofuel projects have stalled due to the uncertainty over domestic demand. There are currently four ethanol plants with a capacity of 282 million litres producing non-fuel ethanol. The main feedstock is molasses while Sasol's plant produces synthetic ethanol from coal for industrial uses.
The outlook for growth in fuel ethanol demand is not promising as a decade has elapsed since the government first proposed a mandate and there has been little progress to date. By March 2019, the Government of South Africa will determine the level of ethanol blending in its fuel supply.
The main challenge is to agree on an ethanol pricing strategy and enforce the mandate. An E10 mandate would have to be met largely with imports as molasses or other feedstock supplies are insufficient.
Key Facts
Mandate:
2018:   2%
Consumption:
2018:  5 million liters
Imports:
2018   4 million liters
Gasoline consumption forecast:
2022  12.1 billion liters
Policy & Trade
Plans to develop a biofuel market date back to 2005 when the cabinet approved a biofuel development strategy. However, it was not until October 2015 that a regulation was finalized. The rule provides for biodiesel blending up to 5% and ethanol blending up to 10%. In the first instance, ethanol was to be blended at 2% in gasoline.
The rule required petroleum manufacturers to pay a regulated price to ethanol producers and established a Biofuel Implementation Committee, the role of which was to develop a pricing strategy. It seems that a failure to agree on how ethanol prices should be set amongst stakeholders is responsible for the lack of mandate fulfilment.
South Africa has ratified the 2015 Paris Agreement on Climate Change. In terms of mitigation, the country pledges a peak, plateau and decline in its GHG emissions trajectory range. The policy instruments under development include a carbon tax, desired emission reduction outcomes for sectors, company-level carbon budgets, as well as regulatory standards and controls for specifically identified GHG pollutants and emitters.
Challenges
Lack of regulatory certainty is a primary reason why commercial biofuel production is limited in South Africa.
The use of maize and jatropha for biofuel production is prohibited to protect the food supply and prices.