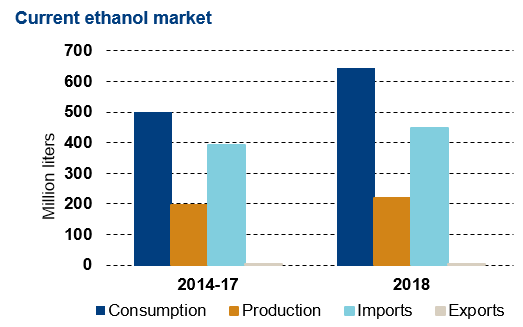 Ethanol Market Overview
The Philippines has a 10% mandate. In 2016, the country consumed 550 million liters, equal to a blend of 9.1% in gasoline, just short of the mandate.
Consumption is largely dependant on imports which reached 440 million liters in 2016. Production has been rising with two new plants opening in 2016. However, the supply of molasses for local production is tight.
There is no import tariff on ethanol imports (aside from a 1% duty that is paid on ethanol destined for gasoline blending).
Key Facts
Mandate:
2018:  10%
Consumption:
2018  644 million liters
Capacity: 560 million liters
Ethanol plants:  10 (main feedstock: molasses)
Gasoline consumption forecast:
2022  6.3 billion liters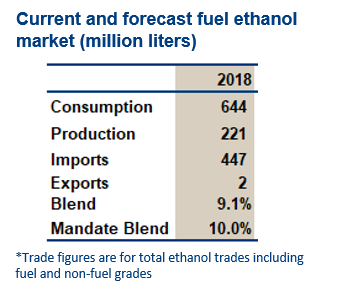 Policy
The Philippines has ratified the 2016 Paris Agreement on Climate Change and pledges to undertake GHG (CO2) emissions reduction of about 70% by 2030 relative to its business as usual scenario of 2000-2030. Reduction of CO2 emissions will come from energy, transport, waste, forestry and industry sectors.
The Biofuels Act or Republic Act (RA) 9367 was signed in January 2007. The Act set the ethanol mandate at a 5% blend in gasoline by February 2009, rising to 10% in 2011. The Act gives priority to domestic ethanol over imports but in practice the bulk of the mandate has been met with imports due to inadequate local supply.
In June 2015, the Department of Energy temporarily waived the blending mandate as a result of declining oil prices which made ethanol expensive relative to gasoline. As a result, the 10% mandate was not achieved in either 2015 or 2016. The Sugar Regulatory Authority sets the price of ethanol based on the price of molasses.
The government's goal is to raise the ethanol mandate to 20% by 2020 and to 85% by 2025. Both goals will require increased domestic production and increased imports.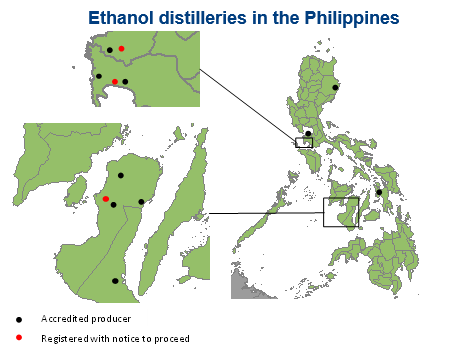 Trade
Imports have risen steadily in recent years, reaching a peak of 440 million liters in 2016. Imports are expected to be lower in 2018 at 447 million liters due to an increase in production. The bulk of imports are destined for fuel use with a small quantity going into the industrial/potable sectors.
The U.S. is the main exporter accounting for two thirds of imports in 2018. Other major suppliers are Indonesia, Pakistan and Thailand.
In 2016, the import tariff on ethanol was lowered to zero for all countries. Prior to that, the basic tariff on ethanol was 10% while countries with preferential access (most Southeast Asian countries) were charged at 5%.
An additional 1% duty is imposed if the ethanol is to be used for fuel-blending purposes under the Philippine Fuel Ethanol Program.
Challenges
Increasing sugarcane production is difficult, limiting feedstocks for ethanol. Most cane is grown in Negros. However, most new ethanol plants are being set up in Luzon where the bulk of demand for ethanol is. This means that feedstock supply is an issue.
Gasoline consumption is expected to continue growing quickly at around 5% per annum and therefore it will be a challenge to increase the blend rate.
Market Outlook
Assuming that the market continues to grow at a similar annual rate to the last five years, fuel ethanol consumption could reach 1.0 billion liters by 2023, equal to an 10.8% blend. This is below the government's target of 20% by 2020.
Most of this growth would have to be supplied with imports which would rise from 440 million liters to 770 million liters in 2023.
According to the Department of Energy, there are three plants with a certificate of registration with notice to proceed. Two of these plants (Cavite Biofuels Producers Inc and Emperador Distillers Inc) are expected to start operations in 2018.