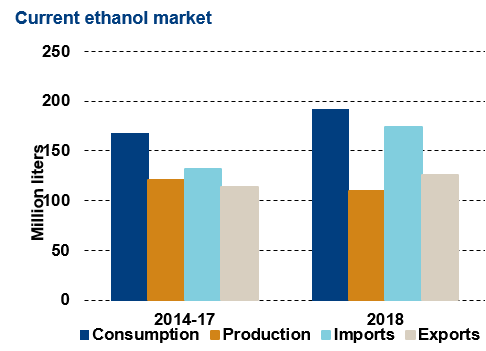 Ethanol Market Overview
Demand for fuel ethanol in Peru is entirely driven by the mandated blend of ethanol in gasoline set at 7.8%. The actual national blend of ethanol in gasoline is slightly below this at 6.7% as some states are exempt. Nonetheless, the mandate is met in all states where it is applied.
Consumption has averaged 175 million liters in the last three years (2015-17) and the country has switched from being a net exporter to a net importer over that period.
There is currently just one operating fuel ethanol plant in Peru, with an annual capacity of 125 million liters, using sugarcane as a feedstock.
Key Facts
Mandate:
2018  7.8% blend (5 states exempt)
Consumption:
2018  192 mn liters
Capacity: 125 million liters
Ethanol plants:  1 (main feedstock: sugarcane)
Gasoline consumption forecast:
2022  3.05 billion liters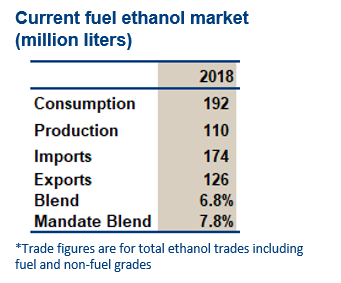 Policy
Peru first implemented biofuel policy in order to diversify the transport fuel market, provide economic opportunities for agricultural producers, generate employment and reduce air pollution.
Peru does not use financial incentives to encourage the use of ethanol but relies on mandatory blending mandates. The blending mandate of 7.8% was announced in 2005 but it experienced some set backs before being implemented.
After the delays, the mandate was rolled out between 2010 and 2011. Five regions are exempt from the mandate as they are sparsely populated and heavily forested so the logistics of supplying the area with ethanol were deemed too difficult (this only makes a small difference to total demand given the small population of these areas).
The mandate is met in all the states where it is applied.
In 2015 the government announced its commitment to reduce GHG emissions by 30% by 2030 in line with the Paris Agreement focusing on a number of sectors including transport. No moves have yet been made to increase the ethanol obligation, but an increased mandate would help Peru to increase its GHG savings.
Trade
Peru allows ethanol from any origin to be used to meet its mandate.
A tariff of 6% is applied to fuel ethanol imports. However, Peru has a number of free trade agreements covering Mercosur, the Andean Community, the EU, Canada, the U.S., Mexico, China, Japan and South Korea.
Peru has been a net importer of fuel ethanol since 2015 as domestic producers have focused on the EU export market.
The majority of this import demand has been met with ethanol from the U.S.
Total exports in 2018 were 126 million liters (compared to 174 mn liters of imports). Peru is excluded from the U.S. market as it does not qualify under the Renewable Fuel Standard due to its feedstock production.
Challenges
Despite plans to reduce GHG emissions in line with the Paris Agreement, no moves have been made to raise ethanol mandates.
Use of biogas and liquefied petroleum gas have grown in recent years, taking market share from gasoline.
Investment in plants has faltered with only two of six planned plants being built. Weakening demand from Europe and competitive imports from the U.S. have restricted opportunities for domestic producers.
In 2018, the Government of Peru ruled on a countervailing (CVD) duty investigation filed in 2017. This ruling is pending a final appeal decision.
Market Outlook
There are no plans to increase the ethanol blend in Peru. Furthermore, the increased use of natural gas and lower price of oil derivatives dampens fuel ethanol demand.
Despite occasional announcements of new projects, no new fuel ethanol capacity is currently under construction.
There is potential for domestic output to rise in the future if conditions change. However, without protectionist policies they will struggle to compete with imports from the U.S.
Producers will continue to look to export markets where they receive a premium for green harvesting methods, increasing demand for imports to supply domestic demand.