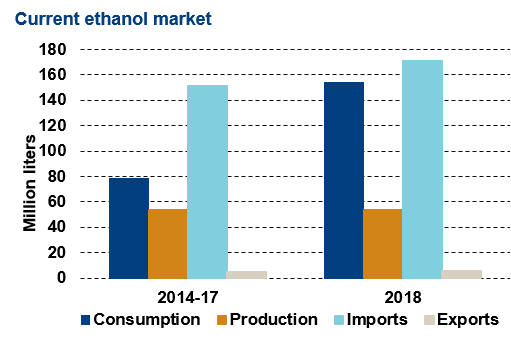 Ethanol Market Overview
Fuel ethanol consumption in Mexico is very low, considering its use was not permitted prior to 2016. A lack of private infrastructure has been the second major constraint, but 30+ fuel terminals are currently under construction in Mexico. Consumption in 2017 was estimated at 50-60 million liters and was sold directly from the producer to consumers in the form of E100.
Although several plants have been announced only one is currently producing fuel grade ethanol (a second plant can produce fuel ethanol but due to the low prices offered by Pemex is  producing non-fuel instead). Due to the lack of regulatory and judicial certainty, investment in new capacity has been slow.
Mexico is currently reforming its energy sector which will open the market  (previously it was a state-owned monopoly). This has created opportunities for ethanol imports and imports of E10 finished gasoline.
Key Facts
Mandate:
2018  No mandate, up to E10 outside   of three major cities
Consumption:
2018  54 mn liters
Capacity: 100 million liters
Gasoline consumption forecast:
2022  47.1 billion liters
Policy
Government support for ethanol in Mexico first began in 2008 with the passing of the "Law for the Promotion and Development of Bioenergy".  The law was designed to support the development of a domestic biofuels industry with the objectives of supporting rural development, ensuring food security and reducing GHG emissions. There is now an overall target for 35% of energy used in Mexico to come from non-fossil fuel sources by 2027. However, despite a number of planned trials that were never implemented, and significant research into ethanol use in the country, no specific ethanol policy has been implemented other than the federal regulation to allow E10 discretionary blending outside the three major cities of Mexico City, Guadalajara and Monterrey.
Original engine tests looked at ethanol as an oxygenate and resulted in a maximum blend of 5.8% allowed for use in all vehicles although the use of ethanol was banned in the urban areas of Mexico City, Guadalajara and Monterrey due to concerns over pollution. In June 2017 an increase in the maximum blend to 10% was announced to bring fuel specifications into alignment with those in the U.S. in order to ease the process of importing ethanol blended gasoline across the border. However, use of ethanol is still banned in the three urban areas, together they are responsible for around 26% of gasoline use so their exemption from E-10 will restrict potential demand for ethanol. It is expected that the Energy Regulatory Commission will modify the regulation to allow E10 in the three cities in 2019. The E-10 ruling is currently being challenged in several districts of Mexico's federal courts. Five cases remain at the time of this writing. All five have been initially denied and are in the appeals process.
Consumption of ethanol is not mandated so its use will be dependent on the economics of blending. Mexico is currently going through a process of energy reform, moving away from the monopoly of the state-owned oil company Pemex and opening the market to private companies. Growing ethanol use would help Mexico meet its commitments under the Paris Agreement of reducing GHG emissions by 22% by 2030 compared to a business-as-usual scenario.
Trade
There is no tariff for ethanol imports into Mexico.
Mexico imports some ethanol each year, predominantly from the U.S. and Guatemala, with volumes at 130-180 million liters annually.
Although the majority of this enters the country as fuel grade ethanol it is then further processed into industrial and potable grades and does not typically enter the fuel market.
Prior to the energy reforms the use of imported ethanol was not possible as all gasoline was sold by state oil company Pemex. However, the ongoing reform of the energy market  and increase in the permitted blend to E-10 has opened the door to imported, potentially pre-blended ethanol.
Challenges
The uncertain policy environment in Mexico may initially limit market potential.
The lack of private infrastructure will be a challenge in the short term. U.S. ethanol exports to Mexico should increase with the construction of private fuel terminals, some of which will be operational in 2019.
The ban on ethanol in the three largest cities in Mexico limits ethanol use and provides a logistical barrier to the roll out of ethanol blends.
The move to increase blending limits to E-10 has been challenged by a federal judge, if this is upheld potential consumption will be limited.
Market Outlook
The government has not considered a mandate for ethanol consumption so its use will be determined by its price competitiveness with MTBE, the oxygenate currently being used in Mexico.
In the short run, the use of imported ethanol from the U.S. is expected in the northern Mexican states.