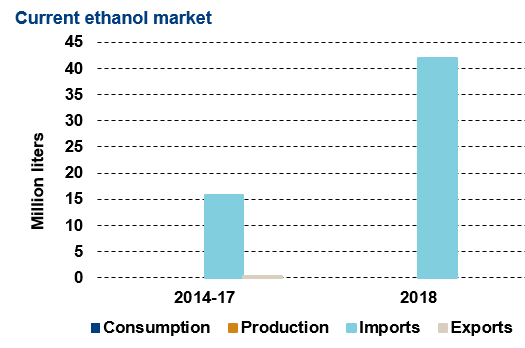 Ethanol Market Overview
Government support for biofuels has so far targeted biodiesel. The Biofuel Industry Act of 2007 excluded ethanol as the source of alternative fuels under the National Biofuels Policy of 2006.
As there is no policy support for ethanol, there is no consumption or production of fuel ethanol. Consumption is currently limited to industrial and beverage uses.
As Malaysia lacks raw materials for the production of ethanol, the country is reliant on imports to satisfy its non-fuel demand.
Key Facts
Mandate:
2018  None
Consumption:
2018  Zero
Capacity: Zero
Ethanol plants:  None
Gasoline consumption forecast:
2022  21.3 billion liters
Policy
Malaysia has ratified the 2016 Paris Agreement on Climate Change. Under the agreement, the country intends to reduce its greenhouse gas (GHG) emissions intensity of GDP by 45% by 2030 relative to the emissions intensity of GDP in 2005.
This consists of 35% on an unconditional basis and a further 10% which is contingent on the receipt of climate finance, technology transfer and capacity building from developed countries.
The National Biofuel Policy 2006 laid the groundwork for the development and use of biofuels. The National Biofuel Industry Act 2007 was put in place to regulate the biofuel industry and to promote the mandatory use of the B5 domestic blend of 5% palm biodiesel and 95% fossil fuel diesel. At the end of 2014, Malaysia introduced the bio-diesel B7 Programme. Ethanol is not mentioned in the Biofuel Industry Act.
Trade
Malaysia imports 10-15 million liters annually for its non-fuel requirements. The main origins are Pakistan, New Zealand, South Africa, and Vietnam.
Malaysia may also import as a reexport market for regional users of ethanol.
Undenatured ethanol attracts an import tariff of 60 MYR (U.S.$14) per liter of pure ethanol while denatured ethanol attracts an import tariff of 1 MYR ($0.24) per liter of pure ethanol.
Challenges
A lack of supportive policy means that refiners have no incentive to use ethanol as a fuel.
A lack of domestic raw materials would make it difficult to develop a domestic ethanol industry.
Import tariffs on ethanol are charged at a high rate for countries which do not have a free trade agreement with Malaysia.
Market Outlook
The market for Malaysian ethanol use has not been developed and there is currently no mandate.
Renewable energy support has been focused on developing a biodiesel program due to the large palm oil production.
Given the country's large and growing gasoline market, Malaysia could be a large consumer of ethanol if the government adopted a mandate. An E-10 blend would require 2.1 billion liters of ethanol by 2022.