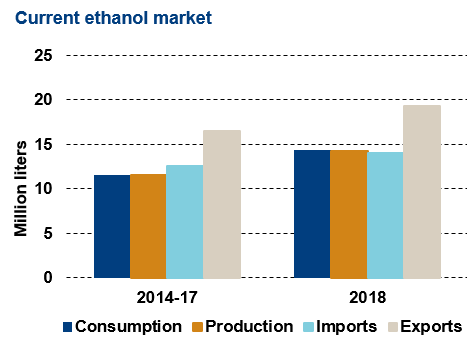 Ethanol Market Overview
The Ministry of Energy planned to implement E10 nationwide from September 2010 but currently, the mandate only applies to Kisumu, the third largest city. Fuel ethanol consumption is estimated at 13 million litres. The country imports ethanol from South Africa and India, while domestic production is exported primarily to Uganda.
There are five ethanol plants with a capacity of 83 million litres producing mainly industrial/beverage alcohol from molasses. Plants often operate at below capacity due to molasses shortages. Various plans to build fuel ethanol plants have stalled.
It is unlikely that Kenya will achieve an E10 blend nationwide by the end of the forecast period. This is due to a lack of domestic feedstocks, lack of a legal framework to regulate the supply chain, concerns over food security and competing end uses for ethanol.
Key Facts
Mandate:
2018:   E10 in Kisumu City
Consumption:
2018:  14 million liters
Imports:
2018:   14 million liters
Gasoline consumption forecast:
2022  2.5 billion liters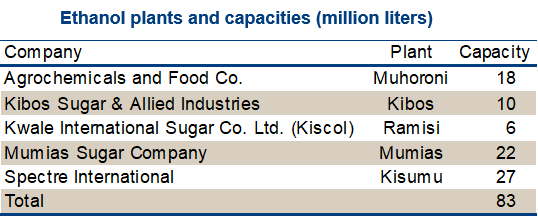 Policy & Trade
Under the 2015 Paris Agreement on Climate Change, the country seeks to mitigate its GHG emissions by 30% by 2030 relative to the business as usual scenario of 143-ton CO2equivalent. The target is subject to international support in the form of finance, investment, technology development and transfer, and capacity building.
The National Energy Petroleum Policy, published August 2015 notes that a strategy for the introduction of biofuel blends in the market was developed by the Government in 2010. Facilities for ethanol-gasoline blending have been completed in Kisumu and are to be followed by Eldoret and Nakuru. However, there are insufficient quantities of bio-ethanol feedstocks.
Kenya charges a 25% import tariff on denatured/undenatured ethanol. Kenya is a member of both the East African Community (EAC) and the Common Market for Eastern and Southern Africa (COMESA) and imports from member countries are duty free. The EAC comprises Burundi, Kenya, Rwanda, South Sudan, the United Republic of Tanzania, and the Republic of Uganda. COMESA comprises 20 countries but excludes South Africa.
Kenya imports nearly all its finished gasoline. Potential ways to engage the Kenyan market are through Persian Gulf and Indian gasoline exporters.