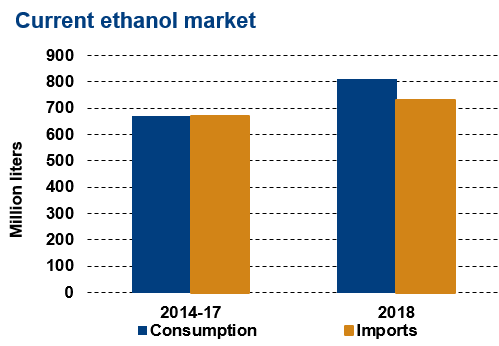 Ethanol Market Overview
Japan targets biofuel use of 500 million liters of crude oil equivalent  by 2022. As there is almost no biodiesel, the target equates to 824 million liters of ethanol. Most fuel ethanol is consumed in the form of Ethyl Tertiary Butyl Ether (ETBE), a gasoline blending component.
In 2018, Japan consumed almost 790 million liters of fuel ethanol, mostly sourced from Brazil as domestic production is limited. This is equivalent to a 1.6% blend. Currently, only cane ethanol from Brazil meets biofuel sustainability requirements. The government now allows up to 44% market share for U.S. ethanol. Exports are expected to begin in April 2019.
Fuel ethanol production virtually ceased in 2016, due to the withdrawal of  government supports. Previously it was around 20 million liters per year.
Key Facts
Mandate:
2018  821 million liters
Consumption:
2018  807 million liters (1.6% blend)
Capacity:  20 million liters
Ethanol plants:  6 (small scale, mainly waste   feedstocks)
Gasoline consumption forecast:
2022  50.2 billion liters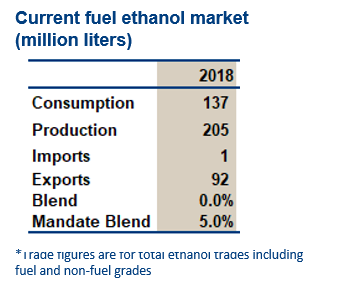 Policy
Biofuels are part of a larger renewable energy policy – the country is targeting 22-24% of its energy to come from renewable sources by 2030. Under the Paris Agreement, Japan has committed to reduce its Greenhouse Gas (GHG) emissions by 26% compared to 2013 levels by 2030. The biofuel program is part of Japan's policy to mitigate climate change as well as help to ensure a stable energy supply.
In March 2017, the Ministry of Economy, Trade and Industry (METI) outlined its plan for biofuel policy from 2018-2022. The plan is to retain the current target of 500 million liters of crude oil equivalent. However, METI is considering allowing the use of U.S. corn ethanol in addition to Brazilian sugarcane ethanol. In addition, there is a plan to introduce 10 million liters (crude oil equivalent) of advanced biofuels and possibly bio-jet fuel. The new policy is expected to be implemented from April 2018, following a public consultation.
Consumption of ethanol will remain in the form of bio-ETBE as Japan has capped the maximum blend of ethanol in gasoline at 3%, except for a small number of vehicles designed specifically to run on E10. This is due to concerns over engine damage at higher blends.
Trade
Japan imports most of the ethanol it consumes, due to insufficient local raw materials. Production of fuel ethanol almost ceased in 2016 due to the withdrawal of government subsidies. There are a number of pilot projects based on using waste feedstocks.
The only large producer is Mitsubishi with 15 million liters of capacity based on wheat/sugar beet. However, the plant suspended operations in 2016.
In 2018, Japan imported 732 million liters of ethanol in the form of bio-ETBE. It also imported 61 million liters for direct blending, bringing fuel ethanol imports to 738 million liters.  Including ethanol for industrial and potable uses brings total imports to 1.4 billion liters.
In 2008, Japan abolished the import tariff on bio-ETBE. In 2016, the country also abolished the import tariff on ethanol destined for bio-ETBE. This applies until 2018, after which the legislation will have to be renewed.
Challenges
Gasoline consumption is declining due to falling population, increasing fuel efficiency and rising numbers of "next generation" vehicles (electric, hybrid and fuel cell cars).
Bio-ETBE limits ethanol use to 2.9% of gasoline (bio-ETBE contains 42% gasoline). Direct blending is only allowed at 3%, but blends are currently much lower.
Ethanol should not compete with food which rules out domestic grain or sugar crops. Pilot projects based on wastes have so far been unable to scale up their production.
Market Outlook
Consumption has risen steadily in recent years and this trend is expected to continue, driven by supportive policy.
It is unlikely that domestic production will pick-up, given the government's recent withdrawal of subsidies.
Japan now allows up to 44% market share for U.S. ethanol or about 370 million liters. U.S. exports are expected to begin in April 2019.
Japan is expected to update its policy in 2020 and again in 2023.