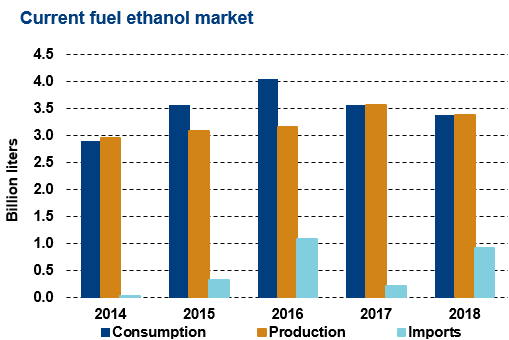 Ethanol Market Overview
China targets ethanol use of 18.7 billon liters by 2020 as move to reach a nationwide effective rate of E10.
China is the fourth largest fuel ethanol consumer after the United States, Brazil and the EU. E10 is mandated across eight provinces.
In 2015 and 2016 a large volume of ethanol was imported from the U.S. 2016 was also a year of low corn prices and high stocks, prompting the government to raise import tariffs and offer processor subsidies to state owned ethanol plants.
Fuel ethanol production is tightly regulated. Only plants with licences can produce ethanol. However, they may sometimes purchase non-fuel ethanol from other plants for sale as fuel.
Key Facts
Mandate:
2018:   10% in eight provinces. Under new   policy, E10 by 2020
Consumption:
2018  3.6 billion liters (2.2% blend)
Capacity:  4.2 billion liters
Ethanol plants:  11 (feedstock: corn)
Gasoline consumption forecast:
2022  207.9 billion liters

Policy
On September 13th 2017, the Expansion for Ethanol Production and Promotion was announced, calling for China to reach E10 nationwide by 2020, and by 2025, to achieve commercial scale cellulosic ethanol production.
Since 2005, the use of E-10 has been mandated in eight provinces and many cities across other provinces and municipalities in the north east of the country (see map), although blending rates typically vary between 8% and 12%.
In September 2016, the country ratified the Paris Agreement. China has committed to peak CO2 emissions before 2030, reduce the CO2 intensity of its fuel, raise the share of renewables in the primary energy mix to 20% and increase its forest stock volume.
Production subsidies of RMB600/ton ($0.07/liter) are given for cellulosic ethanol but are due to be phased out in 2018. Cellulosic ethanol continues to benefit from an exemption on VAT. The VAT exemption on grains based ethanol was phased out in 2015.
Trade
Following large inflows of fuel ethanol imports in 2015 and 2016, a 30% import tariff on denatured ethanol was implemented on January 1, 2017. Imports were slowed for most of 2017, however, shipments from the U.S. resumed at the end of the year as the arbitrage window opened. Tariffs then increased to 45% in April 2018 and are now at 70% as of July 2018.
In 2018, the U.S. supplied the lion's share of imported ethanol.
The import tariff on denatured ethanol had been previously lowered from its bound rate of 30% to just 5% in 2012. It was not until 2015 that a sufficient price gap opened up between China and the world market to stimulate imports. Undenatured ethanol has had an import tariff of 40% since 2009.
The import tariff on ethanol from ten ASEAN countries (plus Chile, Singapore, Vietnam and Pakistan) was reduced to zero as of January 2012. Amongst these countries, only Pakistan is a significant producer and exporter of ethanol.
Market Outlook
The Expansion for Ethanol Production and Promotion is underway, to have an effective nationwide E10 blend rate by 2020.
The plan will require a fourfold increase in ethanol production if it is to be met with domestic content. At nationwide E10, the policy will demand 18.7 billion liters of ethanol.