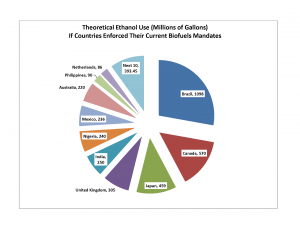 This Chart of Note shows the theoretical volume of ethanol demand by non-U.S. markets with existing biofuels mandates. If countries enforced existing biofuels mandates using ethanol, their gasoline use in 2012 would suggest that the top 10 ethanol consumers would require 3.5 billion gallons of the renewable fuel. The next 10 would add another 393 million gallons of demand.
As examples of the potential ethanol demand that would be driven by enforcement of existing mandates, ethanol consumption in Japan would increase from 9 to 459 million gallons and in Mexico, from 4 to 236 million gallons. Starting this fall, the team will assess Japan and Korea, Latin America and Southeast Asia as potential markets for U.S. ethanol exports.
These markets represent the potential for a huge growth in global ethanol demand. The Council and its partners have initiated ethanol export market development programs in 2014.
About the U.S. Grains Council
The U.S. Grains Council develops export markets for U.S. barley, corn, sorghum and related products including distiller's dried grains with solubles (DDGS) and ethanol. With full-time presence in 13 key markets and representatives in an additional 15 locations, the Council operates programs in more than 50 countries and the European Union. The Council believes exports are vital to global economic development and to U.S. agriculture's profitability. Detailed information about the Council and its programs is online at www.grains.org.