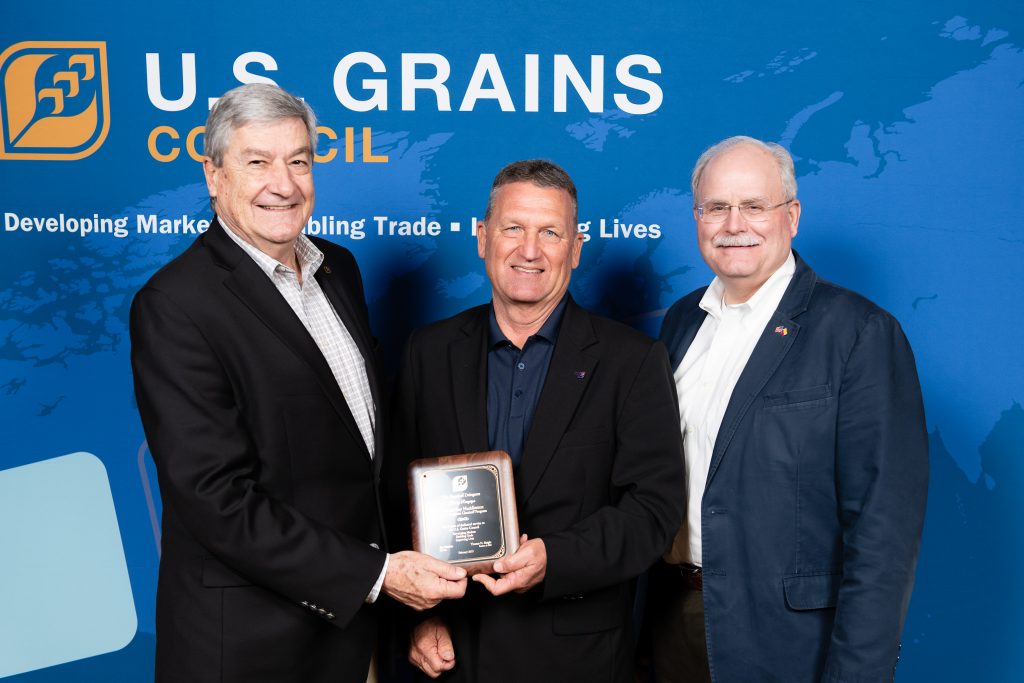 "Travel is fatal to prejudice, bigotry and narrow-mindedness," said Charles Ray Huddleston, quoting Mark Twain with a smiling Collin County, Texas, drawl as he talks about the importance of the U.S. Grains Council's (USGC's) work and seeing it in action firsthand as representative of the sorghum industry on the Council's advisory teams (A-Teams) and Board of Directors.
"You can read about it, you can watch shows, but when you are there and can see the different cultures and the issues, it helps greatly," Huddleston said. "Markets just don't happen."
The Council recognized Huddleston for five years of service during the organization's 16th International Marketing Conference and 59th Annual Membership Meeting earlier this year. His appointment to the Council seemed spontaneous and sudden at the time, but he was later reassured it was all part of the plan when a fellow farmer recruited him to fill an unexpired term on the Texas Grain Sorghum Producers Board.
At his first Council meeting in Ottawa, Canada, Huddleston made the rounds of the different A-team sessions and recalled being in awe of the folks sitting around the table and with the Council's staff.
"I am just always impressed with the knowledge they have – the grasp of projects and programs, political situations and trade policy issues," Huddleston said. "The staff is right on top of it and can inform us as producers."
Since that first meeting, Huddleston has served on a few of the Council's teams as a delegate for the United Sorghum Checkoff Program (USCP). As a member of the Western Hemisphere A-team, he traveled with a mission to discuss trade policy issues with Colombia. He said the mission opened his eyes to the issues that politicians and government officials in every country must take into consideration.
A subsequent visit to China and the Philippines – at the height of Chinese sorghum purchasing – provided the opportunity for Huddleston to see U.S. sorghum being delivered and stored in warehouses. He also spoke directly with end-users who were excited to purchase from the United States. In the Philippines, he experienced the poor air quality, putting pollution in perspective – as well as how U.S. ethanol could help improve the situation.
Experiences like these are what Huddleston shares with fellow farmers, many of whom may not be familiar with the Council's activities or how their individual checkoff dollars contribute to that work.
"I let them know their checkoff dollars are being well spent when they are allocated to the Council," Huddleston said. "There's a passion there in promoting our products, and we have to have them there. We can't be there every day, but we have outstanding personnel doing a great job for us all over the world."
About the U.S. Grains Council
The U.S. Grains Council develops export markets for U.S. barley, corn, sorghum and related products including distiller's dried grains with solubles (DDGS) and ethanol. With full-time presence in 13 key markets and representatives in an additional 15 locations, the Council operates programs in more than 50 countries and the European Union. The Council believes exports are vital to global economic development and to U.S. agriculture's profitability. Detailed information about the Council and its programs is online at www.grains.org.